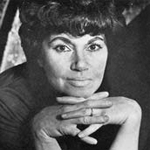 "I regard myself as an expressionist as well as a symbolist. If expressionism implies emotional impact, I can realize it only by restraint and ultimate refinement."[1]
Emerging with the abstract expressionist movement, Jay DeFeo worked for four decades as a sculptor, photographer, and painter, producing a broad and personal vocabulary of heroic imagery that was inspired by ordinary objects and influenced by prehistoric art, astronomy, and architecture. Labeled an abstract expressionist, "Beat painter," and "symbolist," she was born "Mary Joan" in Hanover, New Hampshire in 1929 and raised in San Francisco, rural northern California, and Colorado. DeFeo's childhood was characterized by instability. Unable to find work, her father joined the Civilian Conservation Corps, causing the family to move constantly throughout northern California. After her parents separated, DeFeo and her mother ended up in San José, where their neighbor, a commercial artist, would lend DeFeo art books, including How to Draw, which exposed her to the design principles and basic geometric forms that would later dominate her art. An art teacher in high school recognized DeFeo's talent and passion and would take her to museums. In 1946, DeFeo attended the University of California at Berkeley, where she earned both her BA and MA degrees in studio art. Awarded the Sigmund Martin Heller Traveling Fellowship in 1951, the first woman to be honored with this distinguished prize, DeFeo spent eighteen months traveling in Europe, exploring Paris, London, and Florence. During this time, she painted prolifically, working quickly through various art historical styles and arriving at abstract expressionism.
Upon her return to the United States, DeFeo settled in the San Francisco Bay Area, where she became a central, charismatic figure in the California avant-garde, along with friends Bruce Conner, Joan Brown, George Herms, and Wallace Berman. San Francisco's art world at the time lacked the competitiveness and individualism that often characterized New York. Instead, it was "distinguished by its friendships, correspondences, collaborations, gestures of support, artist-run galleries, presses and publications, by artists who worked to create a cultural infrastructure, a community."[2] DeFeo lived nearly 3,000 from the New York art world, but Dorothy Miller selected two of her works for the exhibition she was curating for the Museum of Modern Art. In 1959, Sixteen Americans opened at MoMA, featuring works by DeFeo, Robert Rauschenberg, Jasper Johns, Frank Stella, and Wally Hedrick, DeFeo's husband at the time. After the exhibition, DeFeo "was approached by the Stable Gallery, one of the first in uptown Manhattan to show works by the Abstract Expressionists. She did not respond because, she said, 'I had launched into the painting of The Rose,'" although Carter Ratcliff suggests that DeFeo was reluctant to give up the Bay Area community that sustained her.[3]