Upcoming Exhibitions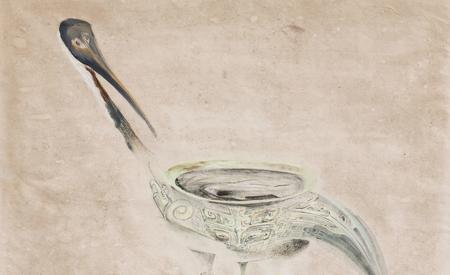 The Art Show, Booth A16
February 28–March 3, 2019
Visit Michael Rosenfeld Gallery at Booth A16
Park Avenue Armory, Park Avenue at 67th Street, New York
For The Art Show 2019, Michael Rosenfeld Gallery presents a solo exhibition of Henry Ossawa Tanner (1859-1937). Our landmark presentation includes the painterly masterpieces Sodom and Gomorrah, c.1920-24, and Two Disciples at the Tomb, c.1925, along with a selection of paintings and rare drawings. This presentation will be the first Henry Ossawa Tanner exhibition at a New York gallery since 1967. Tanner is the most significant African American artist of the nineteenth century and the first to achieve international fame, becoming the patriarch to African American artists for decades to come.
Thursday, February 28 / noon–8
Friday, March 1 / noon–8
Saturday, March 2 / noon–7
Sunday, March 3 / noon–5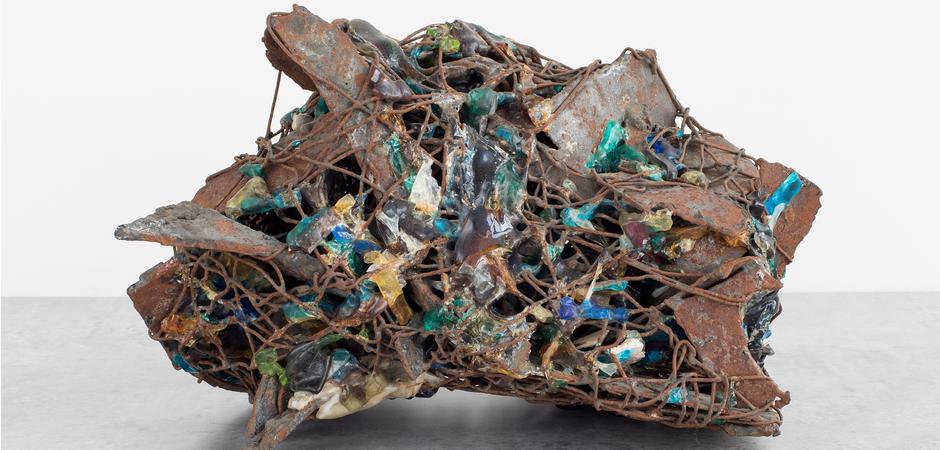 The Armory Show, Booth 504
March 7–10, 2019
Visit Michael Rosenfeld Gallery at Booth 504
Pier 94, 711 12th Avenue, New York
Group exhibition to compliment the traveling landmark exhibition "Soul of a Nation: Art in the Age of Black Power"
Thursday, March 7 / noon–8
Friday, March 8 / noon–8
Saturday, March 9 / noon–7
Sunday, March 10 / noon–6
Barbara Chase-Riboud finalist to design Martin Luther King Jr. and Coretta Scott King memorial in Boston Common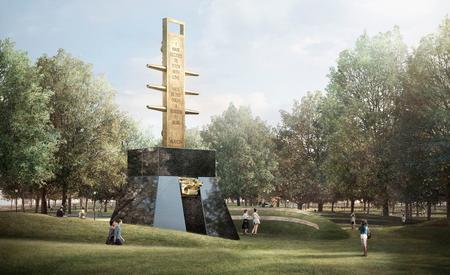 (NEW YORK, Sept 21, 2018) Barbara Chase-Riboud has been selected as one of five finalists to design a monument in Boston Common memorializing civil rights icons Coretta Scott King and Martin Luther King Jr. Selected from a competitive international field of 126 applicants, the five finalists, in addition to Chase-Riboud, include David Adjaye and Adam Pendleton with Future\Pace, Yinka Shonibare, Hank Willis Thomas with MASS Design Group, and Wodiczko + Bonder with Maryann Thompson Architects.

The memorial, with an anticipated budget of $3 - $5 million, is a project of MLK Boston, a new non-profit founded and co-chaired by Paul English with Reverend Liz Walker, working closely with the City of Boston to create a world-class memorial to Dr. Martin Luther King, Jr. and Coretta Scott King in downtown Boston.

Each of the five finalists' proposals have been revealed and are available for review and public commentary on the MLK Boston website.
Chase-Riboud describes her design – titled Empty Pulpit Monument – as "made of light, stone and bronze." The structure incorporates a truncated pyramid made of black galaxy Indian granite and a sculpted bronze tower representing MLK and CSK's "message from the top of the mountain they climbed together." Chase-Riboud explains that "the memorial is inspired in part by a 17th century carved wooden pulpit, likely resembling the pulpit of the first Martin Luther. This extraordinary object gave me the idea of conceiving an empty pulpit to symbolize Martin Luther King Jr.'s silenced voice."
Surrounding the memorial will be a series of undulating landscaped 'waves' – green rolling hills amongst which the public can roam and wander. MLK and CSK quotations will be strategically placed, embossed on bronze plaques embedded in the green slopes and vales of the hills. "I hope it will serve as a destination for contemplation, relaxation, education, and inspiration," states Chase-Riboud.
Architectural design and renderings for the project have been created by Office Martini Goethe (OMG), a NY-based full service architecture studio specializing in custom, experiential design whose focus is client advocacy using a broad spectrum of architectural solutions. "It is a privilege to collaborate with Barbara Chase-Riboud on a monument that honors the lives of Dr. Martin Luther King Jr. and Coretta Scott King" says OMG. "Boston Common, being steeped in such history, was well suited for a subtle landscape intervention that nestles this striking monument. Barbara's vision is nothing short of a masterpiece, and we couldn't be happier with how well the design interfaces with the park."

For over five decades, Barbara Chase-Riboud has dedicated her career to sculptural and literary embodiments of historical figures such as Marian Anderson, Martin Luther King Jr., Alessandro de' Medici, Alexander Pushkin, Chevalier de Saint-Georges, Mao Tse Tung, and Malcolm X. Her celebrated abstract sculptures carry a deep and nuanced understanding of history, identity, and a sense of place. They operate on several dichotomies that have become central to her practice: hard/soft, male/female, flat/three-dimensional, Western/non-Western, stable/fluid, figurative/abstract, powerful/delicate, brutal/beautiful, violence/harmony. Last year, the artist completed a series, begun in 1969, of twenty towering bronze and fiber steles dedicated to civil rights leader Malcolm X. Large-scale public monuments completed by Chase-Riboud include Africa Rising for Ted Weiss Federal Office Building, NYC in 1998, and Dream Column for Empire State Plaza, Albany, NY in 1976.

Designs by the five finalists are now on display at the Central Branch of the Boston Public Library until mid-October. They will also be presented at King Legacy Night, a high-profile benefit to be hosted at the Museum of Fine Arts, Boston; the event will feature singer-activist Harry Belafonte, on October 16. The winning design will be selected in November by the MLK Boston Art Committee, co-chaired by Barry Gaither, National Center for Afro-American Art, and the MFA, and Karin Goodfellow, Director of the Boston Art Commission.

More information on Barbara Chase-Riboud
50th US Open President's Suite curated by Michael Rosenfeld Gallery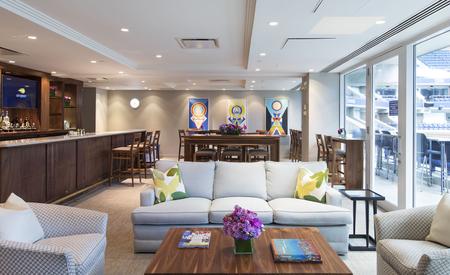 "I am delighted that Michael Rosenfeld Gallery has partnered with Everick Brown Design on the interior design and art curation of the President's Suite for the 2018 US Open. For fifty years, the US Open has represented the best of the best—I am honored to be surrounded by a collection of American art that reflects the same standards of excellence we experience daily on the court."
—Katrina Adams, Chairman of the Board and President of the United States Tennis Association

(NEW YORK, August 29, 2018) Michael Rosenfeld Gallery is pleased to announce its role as curators for the President's Suite and Offices at the 50th US Open Championship (August 27–September 9, 2018) at the Billie Jean King National Tennis Center in Flushing Meadows, New York. Michael Rosenfeld Gallery was selected for its long-standing commitment to an expanded canon of American Art by USTA Chairman of the Board and President Katrina Adams. Michael Rosenfeld Gallery worked in close partnership with Everick Brown Design.
The exhibition is installed in the Presidential Suite, a courtside duplex in Arthur Ashe Stadium, where special guests and dignitaries are hosted throughout the tournament. The exhibition features works by some of the nation's most significant 20/21 century American artists, including Richmond Barthé, Romare Bearden, John Biggers, Barbara Chase-Riboud, Konrad Cramer, Beauford Delaney, Burgoyne Diller, Claire Falkenstein, Michael Goldberg, Nancy Grossman, Sheila Hicks, Alfred Jensen, Norman Lewis, Elie Nadelman, Betye Saar, Leon Polk Smith, Alma Thomas, Charmion von Wiegand and William T. Williams.
halley k harrisburg, Director of Michael Rosenfeld Gallery, who oversaw the project and its installation, worked closely with Katrina Adams. harrisburg drew her inspiration from Katrina's aesthetic preferences and leadership goals. Katrina Adams is the first African American and first former professional tennis player to serve as President in the USTA's 135-year history; committed to making the sport of tennis more accessible to youth of all races, genders and backgrounds, she has forever changed the sport. harrisburg states, "We were very lucky that over several months, Katrina was willing to take time to visit the gallery and look at art with us. She loves art, responds strongly, and trusts her instincts. As such, our selection process was fun and ultimately, a reflection of her dynamic and thoughtful spirit."
One additional curatorial importance was that many works celebrate the tournament's 50th anniversary. Highlights from 1968 include a 21-foot long multidimensional fiber weaving by Sheila Hicks, a series of never-before-exhibited works on paper by William T. Williams and three geometric abstractions by Charmion von Wiegand.
Everick Brown, President of Everick Brown Design, who has been responsible for the overall interior design of the private suite for four consecutive years, states: "This year marks not only the USTA's 50th Anniversary, but also the second and final term of the incomparable Katrina Adams. It has been my honor and pleasure to work with the team at Michael Rosenfeld Gallery to commemorate this extraordinary moment."
Michael Rosenfeld Gallery specializes in 20/21 century American art. Established in 1989 by Michael Rosenfeld, the gallery opened its doors to promote the breadth and depth of American art and those artists—known or unknown—that contributed to the establishment of surrealism, social realism, abstract expressionism, figurative expressionism and geometric abstraction.
Michael Rosenfeld Gallery is located at 100 Eleventh Avenue, New York, NY, 10011. Gallery hours are Tuesday–Saturday, 10:00 am–6:00 pm. For additional images and information, please contact Dan Munn, Communications Associate, at 212.247.0082 or dm@michaelrosenfeldart.com.
Exhibition Catalogues Ready to Order
Mary Bauermeister Representation