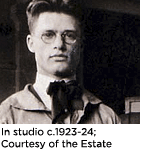 "God is a being—an intelligence, who knows all the laws of the universe and has the power to operate them."
Louis King Stone was born in Findlay, Ohio in 1902. When he was a child, his family moved to Mount Vernon, New York and then Newark, New Jersey. In the 1920s, Stone studied at the Art Academy of Cincinnati, the Pennsylvania Academy of Fine Arts, and the Art Students League in New York City with Boardman Robinson and Thomas Hart Benton before rejoining his family in Lansing, Michigan, where he went to work for a company designing cemetery monuments. In 1927, Stone moved to Providence, Rhode Island and continued to design monuments while also pursuing art. He spent the summer of that year in Gloucester, Massachusetts, where he studied painting with T.K. Breckenridge and met artist Carolyn Hoag, whom he married in the fall. Shortly after the wedding, Stone and Hoag left for Europe.
From 1927 to 1933, Stone and Hoag lived and painted in Europe, spending most of their time in France. In 1928, Stone studied at the Académie Colorossi in Paris, where he would socialize in the afternoon in Montparnasse with artists, poets and writers including Marsden Hartley. Later that year, on a trip to Aix-en-Provence Stone visited Cézanne's studio and decided to rent the property. For a year and a half, Stone and Hoag lived in Cézanne's former home, along with friend and fellow artist Charles Evans. In 1929, they moved on to Munich, where Stone attended the Hofmann School of Fine Arts, before relocating to the village of Mirmande, an artist's colony on one of the foothills of the French Alps. In Mirmande, Stone studied with André Lhote at the artist's summer school. Like Hofmann, Lhote became an important influence on Stone's later, non-objective art. In 1933, Stone returned to the United States, living briefly in Woodstock, New York before traveling to Florida where he and painter James S. Morris co-founded the Stone-Morris School of Fine Arts in Jacksonville. However, students had difficulty paying tuition, and the school was forced to close.