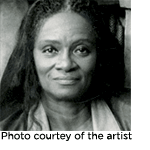 "I love silk, and it's one of the strongest materials in the world and lasts as long as the bronze. So it's not a weak material vs. a strong material so the transformation that happens in the steles is not between two unequal things but two equal things that interact and transform each other."
—Barbara Chase-Riboud
Born in 1939 in Philadelphia, Barbara Chase-Riboud began taking art classes at the Philadelphia Art Museum at an early age. When she was in elementary school, her talent for poetry was so strong that a teacher accused her of plagiarizing a poem, "Autumn Leaves." In response to the accusation, her mother, who had watched her compose the poem, pulled Chase-Riboud out of school, and had her tutored at home before enrolling her in the Philadelphia High School for Girls in 1948. Four years later, Chase-Riboud graduated from high school and began studying at Temple University's Tyler School of Art. The Museum of Modern Art purchased her woodcut Reba in 1955. The following year, she graduated from Temple, and in 1957, she won a John Hay Whitney Fellowship to study in Rome. She returned to the United States in September of 1958 with a fellowship to pursue her MFA at Yale. Soon after, she had a sculpture, Bull-Fighter, included in the 1958 Pittsburgh International Exhibition of Contemporary Painting and Sculpture at the Carnegie Mellon Institute.
In 1960, the twenty-one-year-old artist completed her first commissioned public work, the Wheaton Plaza Fountain, in Maryland (destroyed) and received her MFA from Yale. In the mid-1960s, Chase-Riboud moved to Europe, settling in France. She would make Europe her permanent home, dividing her time between France and Italy. She began creating thin sheets of wax that she could bend, fold, meld, or sever in order to create unique models, which she would then bring to a local foundry for casting. This new approach to the lost-wax casting process enabled her to produce large-scale sculptures comprised of ribbons of bronze and aluminum. In 1969, she added fiber to these metal elements, devising the seemingly paradoxical works for which she became famous—tall, sturdy sculptures of cast metal resting on supports hidden by